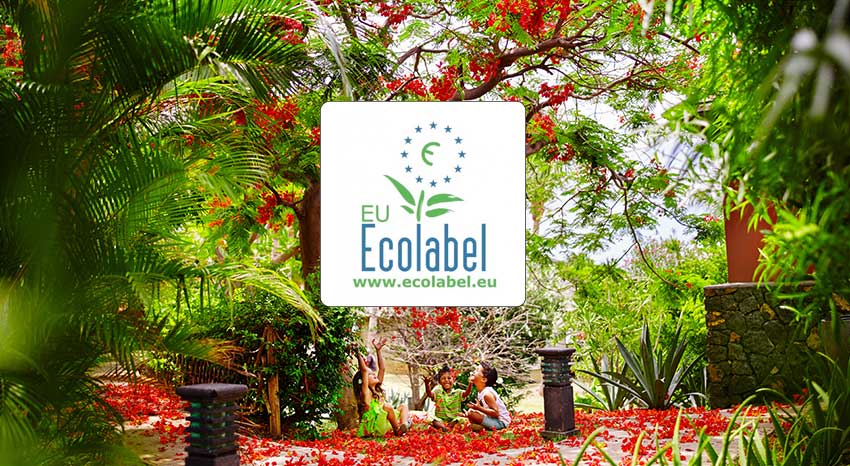 At the hotel group HOTELS & CO (incorporating the ILOHA Seaview Hotel, Palm Hotel & Spa, and Akéa Spa & Beauty) we wished to share our philosophy of sustainable development and for this to be reflected throughout our establishments. After having obtained a first certification for the Palm Hotel & Spa, HOTELS & Co continued this commitment with the ILOHA Seaview Hotel, which is the second hotel to receive the 'EUROPEAN ECO-LABEL for TOURIST ACCOMMODATION SERVICES', not just in Reunion, but across all of France's Overseas Departments.

A RECOGNITION OF QUALITY
Created in 2003, this eco-label is the only certificate which is officially recognized and used in all member states of the European Union. In France, it is issued by an independent third party called AFNOR.
Having studied at length the reliability of various labels, the ILOHA hotel chose the 'European Ecolabel' because it is the most demanding within the European market:
– Strict compliance checks across 29 compulsory criteria and further optional criteria selected by the establishment from a list of 61 are conducted every two years.
– Scalable and revisable criteria to ensure a consistent level of quality.
This label aims to promote tourist establishments which guarantee that the services they provide have a reduced impact on the environment.
It can also provide clear and reliable information on the ecological quality of services offered.
Our ecological commitments:
– To reduce energy and water consumption. For example, 80% of light bulbs are class A (low energy).
– To sort waste and reduce waste production. For example, limiting individual packages in favour of refillable packaging.
– To use renewable energy sources and less harmful substances. For example, all production of hot water for the central building and the Cas'Akéa wellness area is now powered using solar energy.
– To promote products from local suppliers and businesses. For example, all beach umbrellas are made of vetiver by local craftsmen.
Our environmental and social commitments:
– To train staff about best ecological practices and involve them in our environmental approach
– To inform customers and encourage them to actively participate during their stay in our establishment.
– To set up and maintain a plan of action in coherence with our environmental policy to continuously improve sustainable development.
SUPPORTING PUBLIC POLICIES
Since its creation in 1994, the ILOHA Seaview Hotel has been committed to environmental integration and fully aware of the island's many natural riches.
At the ILOHA, we have always strived to be a key influence in society, forging strong links with many local economic stakeholders. Through these business networks and our participation in numerous national and international trade fairs, we are actively involved in spreading the word about Reunion's west coast and the rest of the island in general.
Following this effort, we have also attracted the attention of all local tourism stakeholders, accompanying public policies which have already been implemented for the preservation and enhancement of Reunionese heritage (e.g. the classification of the 'Pitons, cirques and Ramparts' as a UNESCO World Heritage Site and the recognition of 11 endemic aromatic plants by the French Pharmacopoeia).
SATISFYING MARKET NEEDS
This certification is a clear response to consumer expectations from tourists who are increasingly demanding in their search for ecological holidays.
Our local customer base is loyal – 4 out of 10 customers are from Reunion and therefore particularly concerned with the preservation of the various natural resources, flora and fauna that form the identity of Reunion Island.
This desire to continually satisfy and charm our clients has led the hotel to cater for the needs of an international clientele, one of our key areas for future development.
BOOSTING RESPONSIBLE TOURISM
In this way, we aim to highlight our hotel's desire to transmit these values ​​to other professionals working in tourism on the island, and furthermore to other overseas French islands.
At the ILOHA, we aim to raise awareness and educate people about the need to live in harmony with the environment, and to preserve our island's natural resources and potential.