Iloha seaview hotel is the ideal starting point to see all of the island's must-see tourist sites.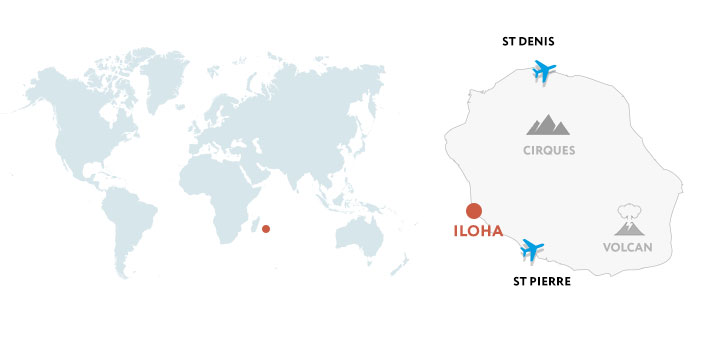 Iloha is located on the west coast of Reunion Island, close to the village of Saint Leu, 300m away from the ocean (600m walking distance) and 3km away from the beach.
Only 45 minutes away from Saint-Denis (Roland Garros Airport) and 30 minutes from Pierrefonds Airport in Saint-Pierre.
Iloha is the ideal starting point to see all of Reunion's key tourist attractions and sightseeings.
Classified as a UNESCO 'World Heritage Site,' the island's 'Cirques, Pitons and Ramparts' are as easy to reach as the white sandy beaches in the west coast.
Distances
From the airport in Saint-Denis: between 1h and 1h10 – 60 km
From the airport in Saint-Pierre: around 45 minutes – 30 km
Access by car
Driving from Saint-Denis: take the N1, following directions to Saint-Paul / Saint-Pierre
Driving from Saint-Pierre: take the N1, following directions to Saint-Paul / Saint-Denis
Come off at the exit marked La Chaloupe – Les Colimaçons – Souris Chaude D12, and follow directions to Kélonia.
GPS 21° 08' 53'' S- 55° 12' 39'' E
Over 20 years ago, a family project came to life…
Iloha Seaview Hotel is the result of a family project which took off in 1996: Michel Jam, architect and owner of the hotel, and his wife Nanou Jam, who was in charge of the decoration and furnishings.
When the hotel opened, there were 44 rooms. Set in a 3 hectare tropical garden, there were 30 bungalows with kitchenettes and 14 bedrooms in the main building, as well as a swimming pool and a restaurant. It was mainly used by sports enthusiasts attracted by the hotel's proximity to various activities such as surfing, paragliding and scuba-diving. These clients needed both freedom and a certain autonomy.
In the late 1990s, Iloha underwent an expansion program, with the construction of 20 additional bungalows.
2005 saw a renovation and development program, confirming its position as one of the flagships of Reunionese hotels. All forms of development were carried out in line with customer expectations, respecting the garden, the different areas of the hotel and the surrounding environment.
Visitors are charmed by this unique hotel in Reunion, assured of an experience combining nature, pleasure, wellbeing and authenticity.
In 2011, a huge expansion program got underway. 3 new buildings were constructed: an additional restaurant, a wellness area with 2 massage rooms (including one for couples) and, most notably, 16 extra bedrooms in the Guétali building, with a second swimming pool and a private lounge area.
Despite upgrading our premises and services, Iloha has retained its air of authenticity, in the image of Reunion Island itself.
To make your stay as comfortable as possible, benefit from the many services of a 3 star hotel.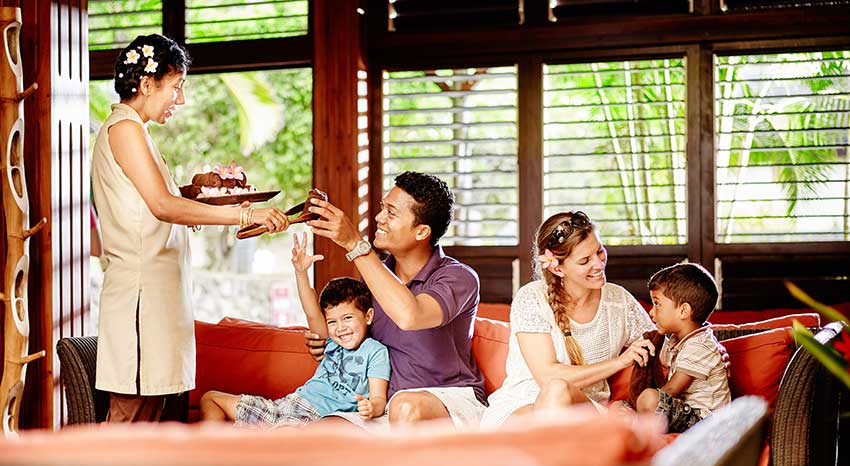 Available to you
24 hour reception desk
Free WI-FI access throughout the hotel
2 private car parks
 Electric vehicle charging stations
Laundry room
Courtesy Lounge
Internet terminal (at Reception)
Luggage storage room
Baby cots (on reservation)
Use of towels for the pool
Access for PRM
With surcharge
Baby-sitting
Wellness treatment
Laundry service
Salles de séminaires
Function rooms
Car hire
Airport shuttle
Hotel boutique
Environmentally-responsible
Our commitment to protecting the environment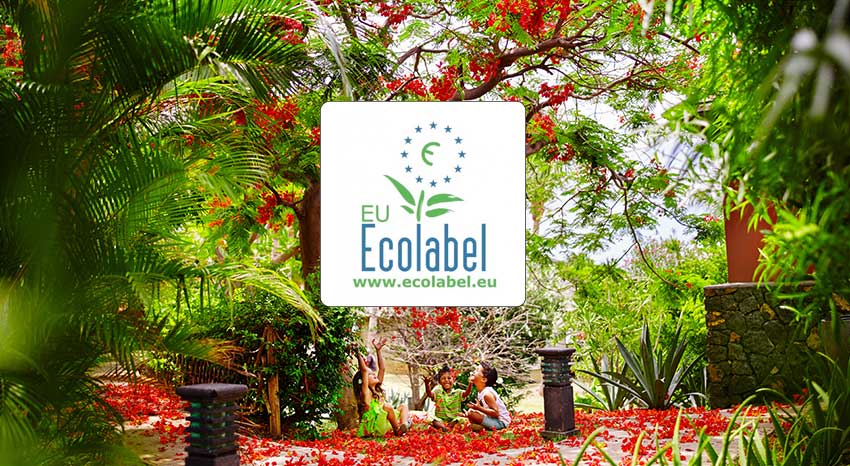 Reunion, the 'intense island'… With its strong identity and natural heritage of unparalleled diversity, this island really is a treasure that we, as tourism professionals, have the exciting task to both promote and protect. Like all things rare, this exceptional destination boasts natural riches which are both thriving and fragile. Since the beginning, our teams have always paid great attention to the preservation of the surrounding environment.
This approach resulted in the hotel being awarded the European Eco-label for tourist accommodation services in early 2015. This certification, a first both in Reunion and Overseas France, is not an end in itself. On the contrary, it is a proud display of our strong, continued and sensible commitment which, we hope, could one day pave the way for the development of a truly sustainable tourism industry in Reunion.
It is our responsibility and our will to contribute to the preservation of what makes up our living environment and our natural resources.
We truly love Reunion Island and the Indian Ocean. Let us work together in the appreciation and protection of these unique places.