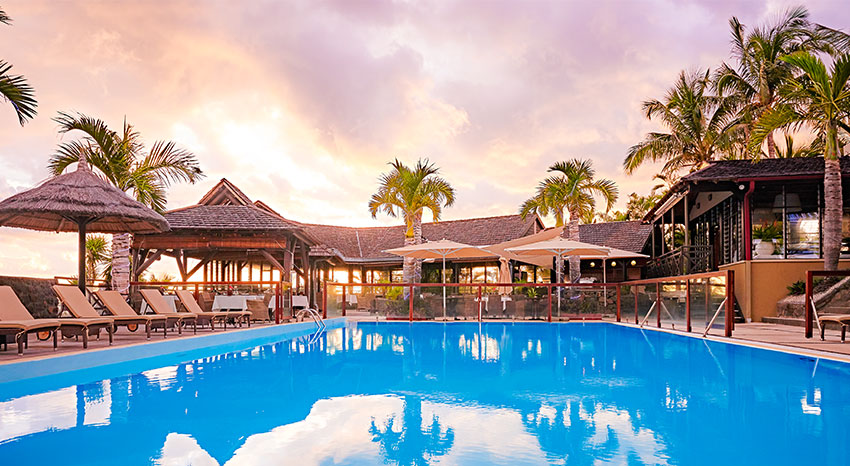 June / July, 2017
ILOHA Seaview Hotel renewal.
A fresh look to keep the magic still going…
Your comfort has always been our main concern.
We have the pleasure to inform you about the programm planned to ILOHA Seaview Hotel soon.
Our establishment is preparing to new equipments and to embellishments.
A new concept of catering will emerge very soon to the restaurant the KOTÉMER, which will welcome you into a modern area with new materials.
You will enjoy" live cooking "shows going on in our new open-plan kitchen.
The main swimming pool of the hotel will be heated for a higher degree of comfort during the southern season.
This area, facing the sea will be convenient to your relaxation.
The Cas' Akea well being center will be equipped with an additional treatment room to provide you a wider scope of availabilities.
The accessibility to the entire site will be facilitated to guarantee the same comfort to everyone.
This new program of refurbishment will take place in 2 parts:
1-Renovation and extension (until June 30th, 2017)
· The KOTEMER kitchen, the lobby lounge of the Reception area and the Kotémer restaurant will be reshaped,
· Extension of the swimming pool zone situated near restaurants,
· Main swimming pool heating installation,
· Creation of an access to swimming pool and restaurant areas for persons with reduced mobility,
· Addition of a 3rd treatment room in Cas' Akea.
2- Design (until July 31st, 2017) 
· Installation of the new equipments and furniture.
Important note to read:
The restaurant Kotémer will be closed until 07/31/17, the meals of Kotémer (breakfast, dinners and lunch of Sunday) will normally be served in the second restaurant, The Trattoria. You'll find a mixed menu of both restaurants.
The main swimming pool will be closed in June but you will be invited to acceed the second swimming pool near the Guétali building.
The well-being center, the Cas' Akéa, will be closed from Monday to Friday, from 05/29/17 to 06/09/17.
You will appreciate the services of the Cas'Akea on Saturdays and Sundays and at the usual opening hours.
We guarantee that everything has been thought to anticipate your expectations ,in the best possible way.
Our establishment will provide you the best quality of service during this period.
All the team of Iloha Seaview Hotel look forward to welcoming you soon.
Discover ou special offer "ILOHA renewal !"
Enjoy  15% off on accommodation from 05/29/17  to 07/13/17 included.